BECAUSE A QUALITY TRANSPORTATION IS NOT DUE TO CHANCE
During the last 5 years, Interoute has invested over € 250K in its IT infrastructure in order to better meet the expectations of its customers. These investments allowed us to track the changing needs of modern transport while focusing on three fundamental points for the qualitative realization of transport as we understand it:
Organization
Traceability
Information
Transport Management system
Always what is best for critical business information
Transwide CarrierTMS contains much information for planning and administration, which may be useful to management. This solution has been developed so as to provide clear these data, in the form of easy to read reports (lists, XML or Excel).

Our TMS software allows for pre- and post-calculations. The pre-calculations are based on the theoretical mileage and hourly data, calculated by WinRoute . This allows us to evaluate the profitability of an order before executing it.
Once realized transport, PDA driver used provides the data in real time, allowing us to calculate the exact cost of transportation, even when we travailleons with subcontractors. Through a series of ICP, we get a detailed overview of what is happening with our clients, vehicles, etc. If something important is on the horizon, we will be the first to know.
Easy access to centralized data
Pre- and post-calculation of transport controls
Evaluation of the profitability of offers
Data analysis based on KPIs for improving business processes
Availability of all critical information for better decision making
Adequate opportunities and customized report
Accessible anywhere, anytime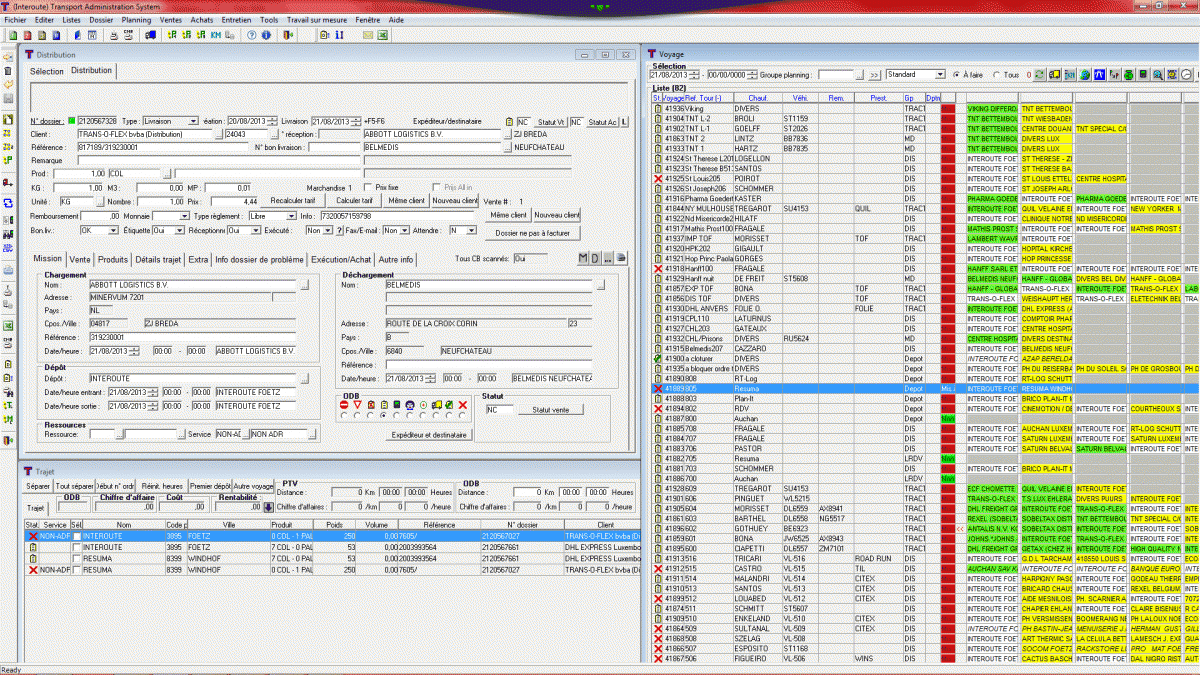 Basic data management information for management, data files or commands to the schedule information: we can access it all via notreTMS. Since many departments of our company can work on the same centralized system, we have a global view. Any specific information that we may need are provided instantly. The calculation of costs has never been easier, thanks to the direct access to the cost and pricing of our business structure.
WINROUTE
Optimized Transportation Management

Descartes WinRoute relies on technology planning and advanced optimization and has been designed as an interactive tool to lesdispatcheurs.
WinRoute can establish our daily planning, improve service delivery and study the cost-efficiency of our transport strategy report in helping us understand and control transport costs of our business.
High Resolution and Intelligent Mapping
WinRoute uses the cards and the most modern map servers. The high resolution maps of the Web facilitates the work of the dispatcher and makes it more efficient. Our cards contain information about traffic jams, work and speed limits, ensuring forecasts of the duration of high precision routes. Realistic routes can be calculated only if they are based on accurate data. WinRoute contains a smart logic algorithm that corrects misspelled addresses and places them accurately on the map.
Flexible Economy model
WinRoute adapts dynamically to the constraints of our business and can handle up to 100 different real-time constraints such as time windows, capacities, working hours ... without forgetting the needs of our customers. WinRoute can be used for operational planning, strategic and dynamic
WINFLEET
Vehicle location with GPS
Since 2005, all vehicles in our company are equipped with a GPS tracking system in real time to determine the position, speed and direction of each vehicle.
WinFleet - upscale Geolocation
With a hardware and innovative software, geolocation with WinFleet brings a variety of features and impressive expansion opportunities, allowing us to meet all requirements of a modern management of vehicle fleets.
WinFleet reports - detailed and instructive
The detailed vehicle location allows for numerous reports on journeys undertaken by a vehicle, which makes it easier for our dispatchers. With WinFleet, it is possible at any time, almost in one click, view live the present site, location history, downtime, trips etc. a vehicle of choice. With real-time data and edifying history information we have at any time of useful documentation for increased optimization of the use of vehicles.
In short: the location of vehicles with GPS is an essential step in planning and long-term effectively optimize our operating costs.