Technical specifications of our building
Since 1985, the headquarters of our company is based in Foetz the motorway junction of the A4 and A13 linking Luxembourg in Esch s / Alzette and Rodange in Mondorf-les-Bains allowing a perfect operation of the Luxembourg road network.
Land & Buildings :
Land area : 51a15
Building area : 18a25
Parking Area : 32a90
Using surfaces
2010m² reserved for goods distribution
204m² workshop area and maintenance vehicles
384m² administration area
96m² closed storage area for temporary stock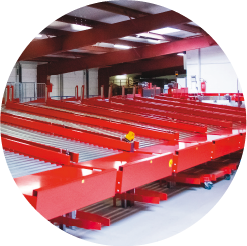 Security
Our building has all the modern standards of safety to protect the shipments entrusted to us.
Video surveillance
The entire site is under video surveillance HD including the provision allowing to trace the entire path of a package or pallet in our premises.
Access control:
Car parks, offices and storage places are secured by a personal access control.
Alarms & monitoring:
Of course the site has intruder alarms connected to an external company sruveillance.
Temperature
Our building is thermocontrolled. To meet the requirements of the new règlementaiton  G DP ref 2013 / C 343/01 , significant insulation and protection work in the wind were conducted in 2013.
Insulation
A roof featuring a high tech insulation was placed on our building to protect your goods from external temperature variations.
Air Conditioning & Heating:
Our building has a heating and cooling system with low energy consumption for automatic regulation between 15 ° C and + 25 ° C in places of transit and storage of your goods.
Temperature monitoring
Two autonomous temperature recorders were installed to transmit real-time information of 4 temperature sensors on an Internet platform. 
This platform incorporates an alarm system to prevent unwanted temperature variation.
Hygiene of the building
Pest control:
Our site has a protection program against the following nusibles:
rodents
crawling insects
flying insects
Cleaning program:
A weekly cleaning program was established to maintain the places of storage and transit in a state of cleanliness irréporchable.